Baby Nursery Wall Decor is for expectant parents and parents with a little one, we all want our child's room to be friendly and inviting. In this article, this is a self-help website, not an online store. You will not experience merchandise being pushed at you to purchase, the focus is to give you access to the information you can use to provide you with possible solutions.
Prices are exactly the same for you if your purchase is through an affiliate link or a non-affiliate link. You will not pay more by clicking through the link.
Baby Nursery Decorating Guide
After some thought, I decided to begin by providing you with a basic guide on decorating your baby nursery. It only makes sense to me to give you a good start, so with the suggestions from Today.com we are on our way. Giving credit to my sources is important to me, this allows you to visit these websites on your own if you desire to.
Think about placing your changing table so everything you need is within reach, this will not only save you time but is safer for your little one as well.
Adding as much storage space as needed is highly recommended, you want to avoid a cluttered nursery.
Be prepared for any unexpected accidents, if you are going with wallpaper that is easy to wash you will be prepared. Little boys often find a way to squirt on your walls, so the easy-to-clean wallpaper is your safest option.
Using something to create a nighttime effect will induce naps more easily, so dimming the light from your windows with a heavy enough material is going to tell your little one it is sleep time.
Nightlights are very important to add to your nursery, you can find cute nightlights or purchase these special bulbs for lamps or any lightning you already might have.
Choosing a nice theme will really make your decorating easier for you, this will narrow down your choices to avoid becoming overwhelmed.
A crib is a necessity you can't do without, smaller cribs are convenient for moving to other rooms if you decide to. Larger cribs are more for staying in the room, so both sizes are good choices if you can afford them.
Wall art is one of your best choices for brightening the room, choosing bright colors will not only be good for decorating but also will be good for the baby.
Avoiding the crib sets is recommended to be safer for your little one, no bumpers, blankets, or any other type of bedding should be in the crib the first year.
Remember as your little guy or gal grows, you will be redecorating this room. When they are infants is time to be creative for being cute, no matter if you have a boy or girl the color and theme really have no effect on the baby. Access to all my self-help articles can be found on my Pinterest Board, you will find these come from my two websites.
Baby Nursery Basic Decor
In this paragraph, we are going to consider the basics of decor for a nursery. Remember, you are in total charge of this special room. Consider what is listed below, but you don't need to think you need everything if it is not something you really want to be a part of your theme.
Crib
Bureau
Diaper Changing Table
Chair or Other Type of Seating
Shelves for Storage
Wall Artwork
Books
Stuffed Animals
Toys
Mobiles
Wall Decals
Rugs
Play Mats
Lamps
Nightlights
Changing Pad and Cover
Curtains or Blinds
Storage Units
Laundry hamper
Lambs and Ivy wrote a blog post in which I got the items above, for more Home Decor Inspiration read my articles that will inspire you for all the rooms in your home. You also will find freebies that might interest you as well, so it is totally up to you to check them out or pass them by.
Baby Nursery Themes
Since I mentioned themes several times, it only seemed proper to include some examples to get you inspired. There are more than I possibly can mention here, but below are some that might get you thinking.
Mickey and Minnie Mouse
Winnie the Pooh
Disney Themes
Noah's Ark
Sports
Lambs
Florals
Dinosaurs
Butterflies
Owls
Unicorns
Horses
Dogs
Cats
Baby Animals
Safari Animals
Sesame Street
Are you starting to think of some themes that might be good options now, whatever you have a passion for can be a good theme? Many cartoon characters are good ones as well, so the sky is the limit to what options are available. One freebie you might be interested in is a Free Parenting Skills Workbook, I just wrote an article on this last week for new parents.
Baby Nursery Shopping Guide
Saving you time is not all that this website focuses on providing you, I also from time to time do a Google Search for the best places for you to shop to get the most for your money. Here is what Google recommends from my search, so this should give you a good start of stores to consider checking out first.
Etsy
Uncommon Goods
Jet
Minted
Pottery Barn
Serena and Lily
Target
Amazon
Wayfair
World Market
Walmart
One King's Lane
Joss and Main
Nordstrom
Buy Buy Baby
West Elm
Crate and Kids
Quite a choice of stores to start your shopping for Baby Nursery Wall Decor, so begin with your favorites first would be what I would do. For me, that would more likely be Amazon or Walmart. Those seem to be the two I compare prices before any of the others, Uncommon Goods is awesome for unique merchandise for specific themes, now you have my three favorites so what are yours?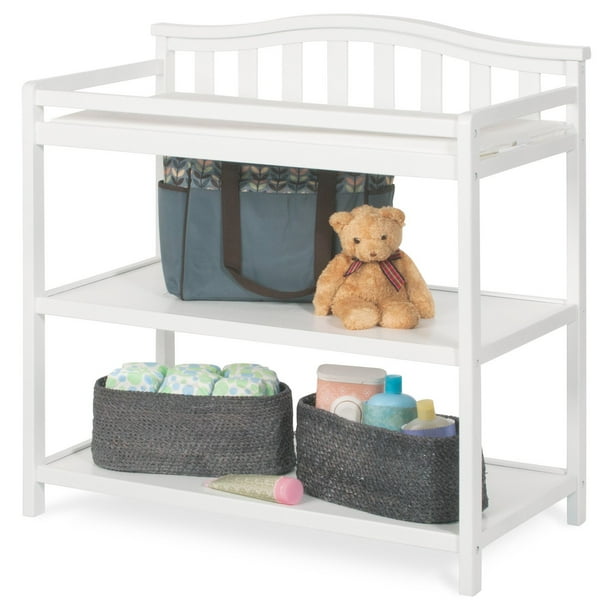 Baby Changing Tables Guide
Since baby changing tables have become extremely popular, I thought providing you with a guide might help you choose one for your own little one. Safety is what would be the most important to me, so that is what we are going to be focusing on. It can be complicated and overwhelming for first-time parents, now here are some things to keep in mind when shopping for this particular merchandise.
Being sure it has four sides is very important, and they should be no less than 2-inches in height to be safe.
Lower in the mid-section of the table is another thing to consider, you will experience your little guy or girl will not be able to roll from side to side.
The wood changing tables with rails are the least likely to be tipped over by a child, this can be a safe option when they are on the floor.
Ones that fold up need to be checked for being sturdy when set up, some are not as sturdy as others so carefully choose the foldable types before buying.
If you choose a wire type be sure the base of the table is wide, this also is important so your baby never pulls it down on top of them when on the floor.
Opt for ones with drawers and storage compartments, you will be happy that you did once you have one.
The majority of babies will no longer require a changing table at the age of approximately 2 years old, but if your baby becomes the weight of 30 pounds before that it is wise to stop using the changing table. Support my Followers is an option I provide in every article, this is my way of thanking them for all their likes and shares.
Baby Toddlers Free Samples
There are free samples available online, why these freebies exist is to get new parents to start purchasing different companies' brands. They give away them with the idea if you like them, you will use their brand over others. There are some things you need to know before signing up, and that is what you will find below.
If you're happy to give brands your details, do be prepared to be marketed at (hey, nothing is totally for free!) with lots of emails – and possibly texts and mailouts, too.
And do check carefully all the opt-out tick boxes to see whether you're agreeing to your data being passed on to other companies (often referred to as "interested third parties"), who could then start marketing at you, too.
You may want to consider setting up a special, separate "freebies" email address, where all these marketing emails can land.
The important information above was provided by Made For Mums, you might want to visit their website from time to time. In my next section there is a guide from the same site, so that is what you can learn about next.
Best Baby Freebies
Pregnancy, baby, and toddler freebies are what you will find, and really this is an easy way to test brands without costing you anything. As they suggest above setting up an email box, especially for free samples is a good idea, you might want to do this for other websites such as dating sites as an example.
Bounty Packs
Emma's Diary Packs
Boots Parenting Club Freebies
Pamper's Club Freebies
SMA Baby Club Freebies
Ella's Kitchen Friend Freebies
Beaming Baby Nappy Packs
Baby on Board Badge
NHS Healthy Start Vouchers
Best Start Grants and Best Start Foods
My Pura Baby Wipes
Piccolo Family Club
Huggies DryNights Pyjama Pants
Made for Mums is where you want to go for more information, you are able to sign up as well while on their website. This is only one source for freebies you can find online, so if this is something you want to try do a Google Search to find even more to join.
Healthy Pregnancy Quiz
URMC Rochester has this health pregnancy quiz for pregnant women, and this is a good way to be sure you are taking very good care of yourself and your unborn baby. As many of you might know by now, I am a big fan of taking quizzes myself. Since they are helpful to me, why would they not be helpful to my readers as well?
Pregnancy is an exciting and busy time for couples. You spend time wondering about your baby-to-be and making plenty of preparations to welcome the newest member of your family. By taking this quiz, you can learn which lifestyle behaviors are most helpful and which may be harmful to your developing child.
That concludes Baby Nursery Wall Decor, as you realize this is an educational self-help website. Many people expect it to be full of products for you to order, but that is not the case. Helping my readers is my priority of Gizmos Deals, this is especially for consumers to get help with solutions to common problems.