The Best Raised Garden Ideas will inspire you with guides for gardeners, you may be getting older and this can make it easier for you to enjoy your favorite hobby. For anyone with back problems, this also is going to benefit your ability to keep growing your favorite plants.
Prices are exactly the same for you if your purchase is through an affiliate link or a non-affiliate link. You will not pay more by clicking through to the link. Some links do provide this website a small commission, whatever is earned is used to keep this website online for you.
Raised Garden Beds
Many people who would otherwise have to give up gardening have gone to raised gardens, one easy way to get started is by using one of the Free Garden Planning Tools. By taking advantage of these you can get a visual plan on how to design your new beds, so this really is a great asset at no cost to you. Let us begin with the benefits of this, and this will help you determine if this is right for you.
Perfect solution for the disabled person
Easier on your lower back
High-quality garden soil for better harvests
Control pests such as ground moles
Adds beauty to your garden
Raised garden kits available
Make your own from scratch optional
Homemade seed starting soil recipes will assure you success, you also can go with a high-quality commercial pre-made mix as well. Let us move on with the raised garden kits to choose from, and this might assist you in deciding if these are something you are interested in or not?
Raised Garden Kits And Planters
For those of you able to invest in a kit or planter, you have a nice variety to choose from. This is well worth their cost if you are disabled or not able to build your own from scratch. Four by four feet are your best kits to consider, I have found for me the planters work the best.
Three-tier wooden kits
Plastic raised garden beds
Wood garden planters
Galvanized kits
Polypropelene kits
Metal garden kits
Fir wood planters
Cedar wood planters
Steel garden kits
Galvanized hexagon planters
Visit Walmart for their Best Sellers in garden kits and planters, you can get an idea of the investment. Also, this will help you decide if a kit or a planter is your best choice, being my lower back bothers me, the planters work the best for me. Now that does not mean you should go with a planter, I am just sharing with you my own experience.
Raised Bed Guide
Some of you might prefer to go with making one from scratch, I used to do this myself when I was younger and in better health. I decided this might benefit those of you interested in this, so that is why this is included. First, you need to know what you need to build your raised garden, that is where we are going to begin.
Two foot by six-inch lumber, and four foot by four-inch lumber
The 2 x 6″ boards will be used for your frame
The 4 x 4″ will be for your corners
I had my lumber company pre-cut them for me, but you can do this on your own with a circular saw
2 1/2 to 3-inch long deck screws, I found 8-gauge to work the best for me.
You will need a high-quality drill and a measuring tape.
Landscaping fabric I have experienced to be of great value.
For ground burrowing pests special merchandise is available
Braces made from galvanized steel for the sides are really something to consider.
Gizmos Deals is more than happy to include this in this article, now we are ready for your next step. This is very important to take your time to seriously consider, so when you are ready continue to the next paragraph.
Let Us Talk About Location
Even though most of you more likely understand your garden site is the key to the most success, possibly some of you are new to gardening. That is the reason I am going to talk a little about where to place your raised bed, now some of you might not have as many choices as others. People living in Apartments with Balconies will have no other choice, I am one of you, so I do understand this is not really going to affect you.
For northern gardeners, your best spot is a south-facing area. This will assure you the most sun than any other place, now if this is possible you are one lucky gardener.
Gardeners living in the south, you want to look for a northern facing spot, some of you will not have as many choices as others.
Apartment balconies will vary on the amount of sun, so you really should take this into consideration when choosing the plants you decide to grow.
My apartment balcony faces east which receives morning sun and shade the majority of the rest of the day. In this case, partial shade plants are my best choices.
Focus on keeping your garden away from structures that might cast a shade, I am using Vertical Planters on my balcony with very good success. These are awesome for balconies and patios, you also can use this type as a raised garden in place of the traditional ones instead.
Raised Garden Bed Tips
From my own experience, I have a few tips that really could benefit you to know. These are just things to think about, these are not set in stone. You might find these save you problems and frustration down the road, just read them and apply any that you feel are right for your new garden bed.
For gardeners with more than one bed, you might find spacing them between 3 to 4 feet apart to work the best. Many of your plants will be growing quite large by the middle of the summer, tomato plants are one that comes to my mind.
Either using a free garden planning tool or sketching out a plan on paper is going to prevent you problems, you really want to have a plan before you begin your building process.
1 1/2 feet to 2 feet is my own preferred deepness, this really has improved my gardening success with raised beds.
4-foot sections with dividers will provide you the strongest support, many times any longer and your plant roots will push out your sides.
Avoid any wider beds than you can reach across, so 48 inches or less for most people is the best width to go with.
The minimum depth of soil needs to be no less than 8 inches, as I mentioned above 1 1/2 feet to 2 feet is even better.
The height of my planters is approximately 3 to 4 feet tall, with raised beds going for at least 2 feet tall will be your best height.
On the bottom I use landscape fabric, now this is really optional. Since I am using planters this prevents my soil from washing out through the drainage holes, yet allows excess water to drain.
All of these tips will not be used by you, but some you might find to be perfect for your raised garden. Think about these suggestions shared by my own experience and preference, you then can customize your own according to your own needs and wants.
Raised Bed Wood Guide
When I started my first raised bed, I made the mistake of using treated pine. You should never really use treated wood for growing edible plants, but for other plants, this is not as important. Even though it will not affect you growing flowers in treated wood, I have stopped using it myself altogether just to be safe.
Redwood and Cedar are the only woods I would consider myself, you can use pine wood as well. Softwoods such as pine might be a cheaper alternative right now, but believe me, they are not durable and in the long run, you are going to be investing more money and work building new raised beds all the time.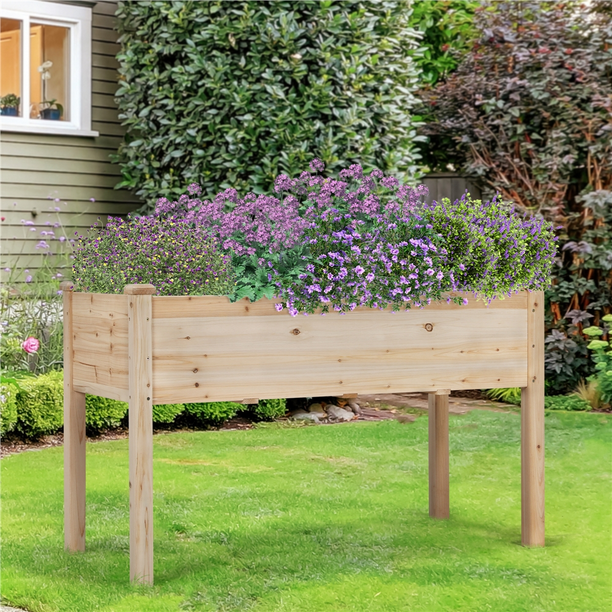 Elevated Garden Beds
To make this clear to you, when I speak of raised planters I am speaking of elevated garden beds. Here are the reasons I prefer this type of bed. Like anything this really is a personal choice, if you experience back problems or are over 50 years old this might be something to consider.
Extends your growing season
Warms up quicker in the spring
Excellent drainage
Healthier plant root systems
High-quality garden soil
Healthier plants
Increased harvests
Abundant blooms
Easier on your body
Weed maintenance and prevention
Pest control
Disability-friendly
Senior-friendly
Durable
Consistent moisture
Elevated raised beds are my favorite at this time in my life, now remember I am over 60-years-old. My body is not nearly as flexible as it once was, so this is the better option for me but that does not mean it is for you. When I was young building raised beds were my favorite, now as you age your choices are going to change.
Raised Bed Vegetables
Selecting what you are going to grow is an important step, this is another factor to decide before adding your raised bed garden. Let us begin with edible plants, these are the most popular among many gardeners. Before you read my vegetable list, I wish to Invite You to My Pinterest Boards page.
Carrots
Kale
Cucumbers
Lettuce
Radishes
Spinach
Tomatoes
Peas
Beans
Celery
Onions
Peppers
Beets
Potatoes
Quite a nice variety of veggies to pick from to grow, one thing that I have found out is the bush varieties are much easier to grow in these types of garden beds. This is a personal choice you can think about, so onward to what I have for you next.
Raised Bed Fruit Guide
Fruit is a very huge part of my diet with Celiac Disease, so this is something I love to grow. Many people avoid fruit in these beds, but when you choose the best ones you can experience such rewards. Here is a list of the ones I have grown over the years, and if I can grow them so can you.
Strawberries
Tophat Blueberries
Raspberries
Blackberries
Cantaloupe
Watermelon
Honeydew
Even though the options are more limited, you can enjoy fresh fruit from your own raised garden. Strawberries grown in these just melt in your mouth, you will never enjoy store-bought ones again. Tophat blueberries is a dwarf bush that only grows to a height of approximately 2 feet, these are two of my favorites. Interested in my Tweets on Twitter, feel free to go to my page and view them.
Best Herbs Garden Bed List
How many of you love growing herbs, these are so simple to grow for anyone even beginners. They thrive with little care from you, so another good choice for people with busy lifestyles. If you love the sweet scent of these plants, you really should think about adding these as well.
Chives
Rosemary
Basil
Dill
Cilantro
Sage
Peppermint
Tarragon
Catnip
Garlic
Lavender
You will not be disappointed with any of the ones on my list above, peppermint is one of my favorites for brewing my own tea. Lavender repels insects and pests naturally, you can even use the oil for a natural flea and tick repellent for your pets. Now you know what herbs to get started with, and these are super easy to grow.
Raised Bed Disadvantages
To bring Best Raised Garden Ideas to an end, you deserve to know what disadvantages to consider before making your final decision. Even though I love this type of bed for myself, this might not be the right type for you? That is what we are going to discuss now, so below are some factors to think about before making that final decision.
The purchase of high-quality soil is an investment, you should know it does take quite a bit to fill one of these beds.
Building from scratch or purchasing a kit or planter is another expense
Watering more frequently is often required during the hottest part of your summer
Warmer soil in the summer, colder soil in the winter
Efficient planning is important for the most success
Replacing soil regularly to maintain nutrients
Fertilizing is required more often during the growing season
Limitations to what plants you are able to grow
Comparing the pros and cons will provide you the answer if this is right for you, many of us older folks really have no choice to pursue our passion for gardening. Also, apartment dwellers have no other choice as well, but for those of you with a yard, you do have a choice. With a little adjustment, I have experienced raised gardening very rewarding. If you love this hobby, spending the extra time caring is not really a problem.