Free Christian Birthday Cards are my deal today, what person would be surprised to get a spiritual uplifting card on their special day? This might be the best gift you could give a senior in your family, they really don't need anything and many don't have room for more in their apartment or homes.
Prices are exactly the same for you if your purchase is through an affiliate link or a non-affiliate link. You will not pay more by clicking through the link.
Free Christian eCards
I am a big fan of sending ecards to the people who are important to me, and my mother is one person I often send these to for no reason at all. One of my favorites websites is Crosswalk, so this is going to be my first recommendation for you to consider. Now let me tell you more about this special place of mine, you might find this to be one of your favorites as well.
Bible Scriptures
Animated
Praise
Love
Wisdom
Encouragement
Comfort
Simple Things
Patriotic
Sympathy
Thank You
Wacky Holidays
Birthdays
Facebook
Post Cards
Anniversaries
Business Greetings
Celebrations
Events
Espanol
Friends
Family
Holidays
Invitations
Just for Fun
Love
Ooops and Sorry
Original Artists
Gizmos Deals is a self-help resource for everyday people like you, learn about all sorts of interesting solutions to common problems and even bargains such as Free Christian Birthday Cards. This is not your ordinary shopping site, here you will receive shopping guides and tips plus tons of information.
Birthday Bible Verses
In this paragraph, you will find birthday bible verses. How many of you knew these even existed before now, if this is new to you already you have learned something new by visiting my website. For those of you into homemade projects, using these can really make them extra special. Providing inspiration to your loved ones is the best gift you can give them, so on to some bible verses, especially for birthdays.
The Lord bless you and keep you; the Lord make his face to shine upon you and be gracious to you; the Lord lift up his countenance upon you and give you peace.
This is the day that the Lord has made; let us rejoice and be glad in it.
Delight yourself in the Lord, and he will give you the desires of your heart.
The steadfast love of the Lord never ceases; his mercies never come to an end; they are new every morning; great is your faithfulness.
Every good gift and every perfect gift is from above, coming down from the Father of lights with whom there is no variation or shadow due to change.
You make known to me the path of life; in your presence, there is fullness of joy; at your right hand are pleasures forevermore.
And let the peace of Christ rule in your hearts, to which indeed you were called in one body. And be thankful.
For you formed my inward parts; you knitted me together in my mother's womb. I praise you, for I am fearfully and wonderfully made. Wonderful are your works; my soul knows it very well.
For we are his workmanship, created in Christ Jesus for good works, which God prepared beforehand, that we should walk in them.
Wisdom is good with an inheritance, an advantage to those who see the sun.
He is like a tree planted by streams of water that yields its fruit in its season, and its leaf does not wither. In all that he does, he prospers.
But grow in the grace and knowledge of our Lord and Savior Jesus Christ. To him be the glory both now and to the day of eternity. Amen.
Trust in the Lord with all your heart, and do not lean on your own understanding. In all your ways acknowledge him, and he will make straight your paths.
May we shout for joy over your salvation, and in the name of our God set up our banners! May the Lord fulfill all your petitions!
The Lord your God is in your midst, a mighty one who will save; he will rejoice over you with gladness; he will quiet you by his love; he will exult over you with loud singing.
Bible verses are extremely inspirational for using in your birthday cards, you could even use any of these when sending someone one from online. What better way to make your surprise even more special, if you would like access to all my self-help articles from both of my websites visit my Pinterest Board. I publish them all there so more people can learn from them, and it is absolutely free to create an account if you don't have one yet.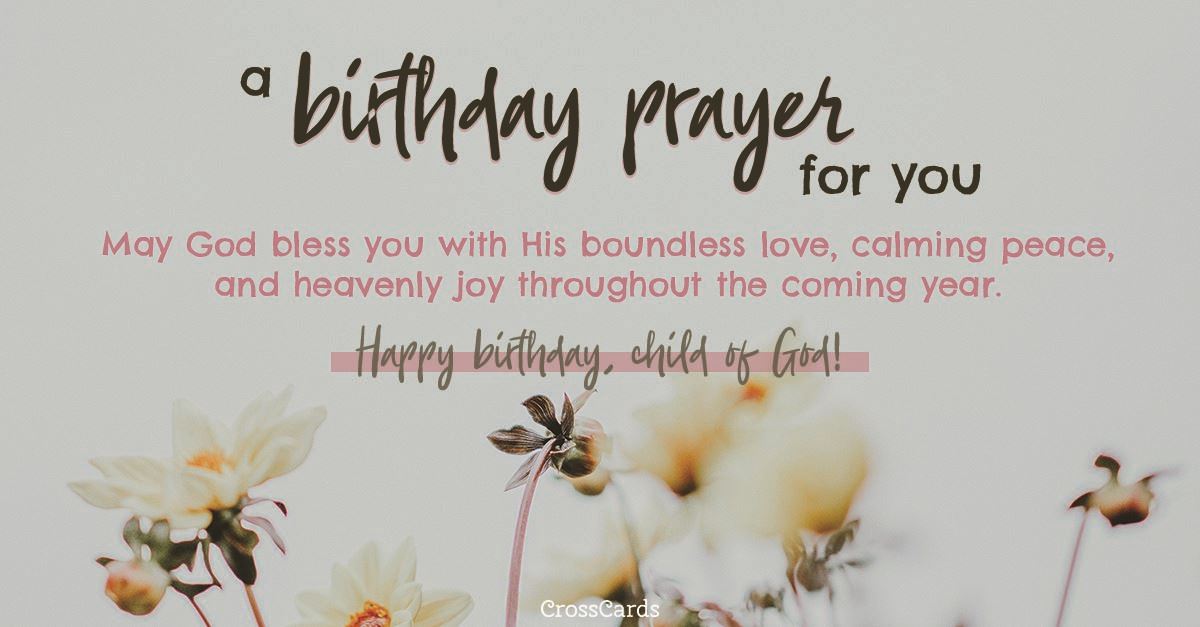 Free Christian eCards
eCards are very popular and easy to send, I am surprised people still are sending the old fashion paper cards. The stores still are stocking them, so there still must be a demand for them, now let me share with you the better sites for the best birthday ecards.
Crosswalk
CrossCards
Dayspring
123 Greetings
The four listed above are highly recommended, I have used Crosswalk and 123 Greetings many times. These two I can guarantee you are absolutely free to use, you must be careful some you have to create accounts and only have access to a very limited choice of ones you can send at no cost to you.
Free Christian Video Cards
One of my other favorite sources is YouTube, how many of you forget about using this to send extra special birthday cards to your loved ones? Many people use this to learn all types of things, they listen to music especially. Amazing fewer people take advantage of this than you would think, so that is the reason I included this in this article.
Bible Verses for Birthday Blessings
Happy Birthday Message with Bible Verses
My Prayers and Thoughts are Always with You
Best Birthday Song and Inspirational Birthday Wishes to a Special Person
Popular Handmade Birthday Cards for Husbands
5 Bible Verses for Birthday Wishes
Christian Birthday Wishes
7 Bible Verses for Birthday Wishes
A Birthday Blessing Prayer Message
5 Most Popular Birthday eCards from 123 Greetings
A Special Birthday Song
Just type in YouTube's search box, Happy Birthday Christian Cards. You will be taken to the page where I found the ones above, this is another resource you should add to your favorites for easy access. For Business and Education Resources you might want to visit my other website, now you know more about both my sites let us move on to more awesome information.
Free Bibles Guide
How many of you would be interested in a free bible, even if you are not a religious person there are so many things you can learn from reading the bible. Maybe you are curious about what this famous book actually is all about, no matter your reason if you would like this freebie, I have what you need to get one for free.
Bibles for America Organization
Free Bibles Net
My Free Bible Organization
US Bible Society
Your Version Bible App
Bible Gateway
Bible Study Tools
Blue Letter Bible organization
Biblica
Study Light Organization
Audio Treasure Free MP Version
The Online Bible Net
Support my Followers would be a very Christian thing to do, and there are no hidden costs to you. If you have a Twitter account you are good to go, and if not create one in a few minutes for free. This is my way of thanking everyone who has spread the word about my self-help resources, many of my followers are everyday people just like you Others are small business owners and bloggers, open your heart and help them today.
Free Christian Books
When I first became really interested in Christianity, I was obsessed with reading inspirational books. I had one problem, no extra money at that time to spend on books, what I did was research until finding the following places listed below. If you have the craving but lack the funds, you will be more than happy these were included in this article.
Bibles for America
Baker Publishing Group
Bibles for Free
Freecycle
My Free Bible organization
The U.S. Bible Society
Kids Club for Jesus
A Grain of Wheat
Moody Publishers Newsroom
PaperBack Swap
Offer Up
Free Christian books are really available by many churches as well, most of them have a free library where you are able to sign out books or read them right there. Another favorite of mine is Good Reads, you can check out their Christian Books here.
Free Printable Bookmarks
How many of you would like to print out some bookmarks, even though I have just used a piece of paper these are free at the low cost of printer ink? These are some cool sources that many of you might love to explore, you can even create your own online as well and print them out.
Canva
Call Me Victorian
Lemond Paper Company
Teal Notes
Carrie Elle
Almost Makes Perfect
We Are Teachers
K12 Reader
Free Printable Bookmarks Net
Template Lab
Darlene Brink Christian Bookmarks
Free Printables Online
Bannersnack
Canva is my favorite out of all of these, you can join for free and use templates to design your own unique designs. I have used this one for years, so very easy for beginners with no experience. As my last freebie, this one is for kids but maybe even some of you adults might like them as well.
Free Bookmarks For Kids
Why these are especially kid-friendly is that they are able to color them. Not to say some adults might not like these also, but when I found these children came to my mind. I listed some below for you, and this will conclude Free Christian Birthday Cards.
Yellow Bliss Road
Gathering Beauty
Daydream into Reality
Pam Ash Designs
What Do We Do All Day
Simple Everyday Mom
College Life Made Easy
Kleinworth and Company
Sarah Titus
Smiling Colors
By Dawn Nicole
The Printables Fairy
The Kids Craft Site
Inner Pieces Gallery
Feels Like Home
Classroom Doodles
In Our Spare Time
Design Dazzle
Awesome bookmark coloring activities for children, and the best part is you just print them out on your computer. Parents can get access to so many websites such as these to keep their kids from getting bored, Now this is all I have for you today, but remember there are plenty more self-help articles and freebies on Gizmos Deals.